Rosa Pryor Scholarship Recipient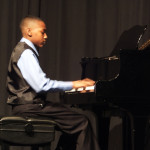 Congratulations to RSM student Marlon Brown who received the 2014 Rosa Pryor Music Scholarship for Piano Performance in the Middle School Level Category. As part of the 2014 scholarship recipient, Marlon will perform at the Rosa Pryor annual award banquet on Sunday, October 26th, held at 4219 Primrose Ave Baltimore MD.

Trackback from your site.