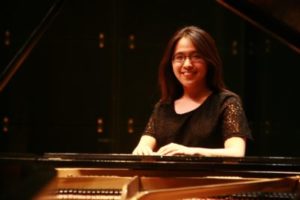 Marina Hwang is a piano instructor and a collaborative pianist. She studied at Eastern Illinois University where she received her Master's Degree in piano performance and Michigan State University where she received her Master's Degree in collaborative piano. During her studies, she extended musical experiences on both teaching and performing, which allowed her to become a versatile musician.
As a member of the Music Teachers National Association (MTNA) and Michigan Music Teachers Association (MMTA), Ms. Hwang actively attended piano pedagogy conferences and presented posters. She has a passion for studying and researching in order to apply different ideas and methods to her own students.
Ms. Hwang also loves collaborating with other musicians. She has been accompanying for lessons, recitals, musical productions, orchestras and church services throughout the States, Italy and South Korea where she is originally from. Ms. Hwang continues to study in order to broaden her knowledge and to play with other musicians. During the summer 2017, she attended a collaborative piano institute where she received intensive coaching from wonderful collaborative pianists and musicians. Ms. Hwang desires to be as helpful as possible to her students and musicians. She wishes to enjoy every moment in music with others.